What is a
Mermaid Tail?
A swimmable mermaid tail is a thrilling swim accessory that inspires children and adults to use their imaginations. They come in a variety of designs and sizes, so every aspiring mermaid can find a tail that suits them. Some feature bright and whimsical colors, and others are inspired by real fish scale designs! Some mermaid tails have large flukes, and some have additional fins on the sides and back. Depending on the look and feel you want, you may decide on a fabric mermaid tail or a silicone one. Mermaid tails consist of two parts: the mermaid tail skin and the monofin.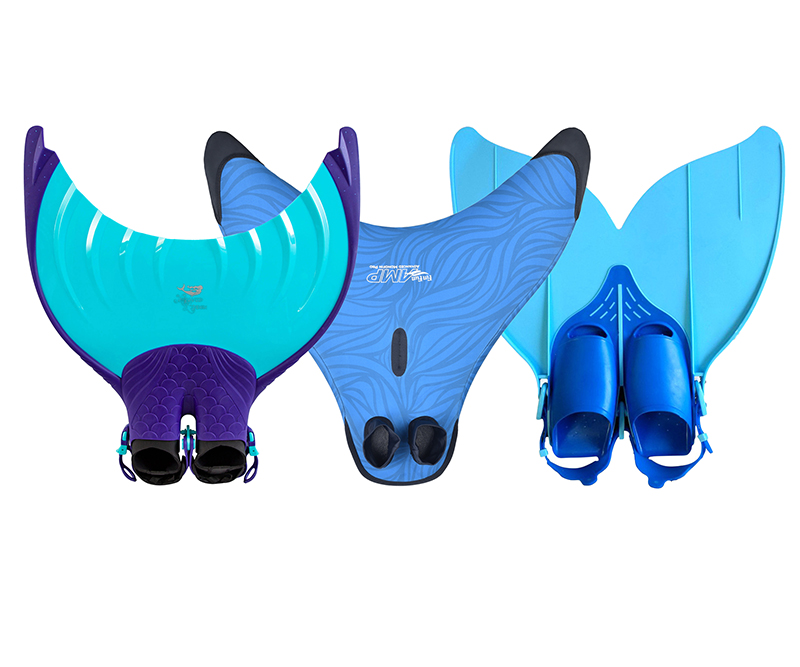 What is a
Monofin?
A mermaid monofin is a swimming accessory that's crucial to swimming like a mermaid. Worn on the feet, the shape provides the structure for the mermaid fluke. It offers propulsion while swimming, allowing you to swim further and faster with every kick. Monofins vary in shape, size, and construction, and they often fit specific brands of mermaid tails. While the mermaid tail skin offers a realistic mermaid appearance, the monofin provides the power behind it. When worn together, you'll look and feel like a real mermaid!
What to look for
in a Mermaid Tail
With so many options available, it's important to know how to choose a mermaid tail. As the physical representation of your mersona, the right tail will embody your mer-style! Some aspects to consider before making a purchase include a durable design, reasonable price, and safety features. Of course, the look and feel of the tail makes a difference too! Check out our 10 Mermaid Tail Must-Haves to find the best mermaid tail for you!
Learn More
Are They Safe?
Mermaid tails for swimming are absolutely safe! Not only are they fun to swim in, but they're easy to use. If you can swim well, you can swim like a mermaid. We advise practicing the dolphin kick before wearing a mermaid tail and always swimming with adult supervision.
How much do they cost?
Mermaid tail costs vary based on its features. The biggest price difference is between fabric and silicone tails, with fabric being the most economical option. The price also goes up for customization. For example, many silicone tail companies mold the tail to your unique body shape, and they're the most expensive. Fabric tails generally come in traditional sizes that most children and adults can comfortably wear.
Top Brands
The best mermaid tail brand will vary from person to person and largely depend on the features you want. Most mermaid tail companies sell their products across the globe as long as you have access to the internet! You can make a purchase directly from the company or find credible listings on websites like Amazon. Take a look at which brands are worth investing in.
Compare Brands
Brands
Fin Fun
Aqua Mermaid
Mertailor
Sun Tails
Planet Mermaid
Finfolk Productions
Website
finfun.com
aquamermaid.com
themertailor.com
suntailmermaid.com
planetmermaid.com
finfolk.com
Price (with Monofin)
$70-$125
$105-$135
$100-$160
$70-$105
$80-$110
$320-$500
Material
82% polyester
18% spandex
82% polyester
18% spandex
72% polyester
28% spandex
80% polyester
20% spandex
80% polyester
20% spandex
84% polyester
16% spandex
Color variety
40+
5
15
15
24
8
Available sizes
Youth 6-12
Adult XS-XL
S-XL
Youth 6-10
Adult XS-XL
Youth M-XL
Adult S-L
Youth 4-14
XS-3XL
Compatible monofin
Original Patented Monofin
Aquamermaid Professional Monofin
Mermaid Linden Monofin
Keiki and Nunui Monofin
Magic Fin Monofin
Finis Shooter
Warranty
1-Year Tail Tip Warranty
None
30-Day Warranty
1-Year Warranty
None
7-Day Warranty